Race: New England Time Trial Championships Merckx Division
Date: August 16, 2014
Time: Right before noonish.
Location: Wood River Junction, RI
Hosted by: Northeast Masters Cycling Association
Strava recordings: Dana and Valerie
It's no secret that I have an unhealthy love of time trials, so when Dana asked me if I wanted to go to the New England Time Trial Championships, I was all in. It probably doesn't hurt that almost no one signs up for the Women's Merckx division. I don't understand why. For anyone unfamiliar with time trialing, Merckx division basically means you're on a road bike with no aerobars, no disc wheels, no teardrop helmet, no shoe covers that make you that much more aero. Aero division… well yeah.
Anyway, we get to Rhode Island and scope out a bit of the course while warming up. I immediately regret not bringing my magnetic trainer with me just because warming up on roads I don't know that are still open to traffic usually results in an increase in heart rate due to reasons completely outside of riding. Once at the lineup, we meet and chat with some of women aero racers. One of the officials warns us that at mile 6 is some broken glass.
When it's my turn to go up, I feel that familiar excited nausea kick in and am well aware of my heart beating in my chest. I'm able to ramp up to 20 mph right away (my goal was to maintain higher than the 18 mph I had at previous races), but wonder if I can maintain that going uphill. I keep the person in front of me in sight and keep pushing. By now I'm actually able to get my water bottle and drink without drastically reducing speed. Yay for small gains. I completely forgot about the broken glass warning, but at least nothing happened.
I'm feeling the soreness start in my chest and a burn in my lungs. Apparently I'm not used to taking larger breaths at a quick rate or something. This is nothing compared to how much my thighs will be screaming at me later. I used to try to keep my breathing at a steady tempo, breathe in with two cranks of the pedal, then out with two cranks of the pedal. This would usually go up to four once I got my cadence high enough. Except now I'm starting to go into the red zone of pain and I'm losing focus. Counting to four is too difficult for my brain to process.
At the second turn onto 112, it gets a little hairy. Somehow this car got in front of me in the breakdown lane after failing to merge, slowing me down when I had to figure out how to get around it. I'm kind of upset at this since I know that it was pretty much a steady incline ahead followed by more climbing.
The sun is out and I'm nearly out of water. There is a hill and there are a couple of kids standing at the side of the road. Sort of delirious, I trick myself into thinking the end is near and push myself up the hill staying in the big ring… and completely blow myself out.
I can't remember what happened after that, but somehow I get to the finish line and spin my way back to the parking lot to wait for Dana. According to Dana, she was able to keep me in sight the whole race.
There was the usual swarm around the results posting on the school door. Dana got first, I got second by about four seconds (which is funny because at the indoor time trial in January, I beat Dana by about four seconds)  and another rider got third. She introduced herself as Stephanie and was wearing a Metromint skinsuit. She recently moved here from California and was looking for opportunities to keep riding. The crazy (and by crazy I mean awesome) thing is that she had also signed up for the aero division time trial as well as the Merckx division. She got a flat during the aero time trial and had to get back to the start line, which was why she missed her initial start time for the Merckx race. We got our shiny medals and had a photo op.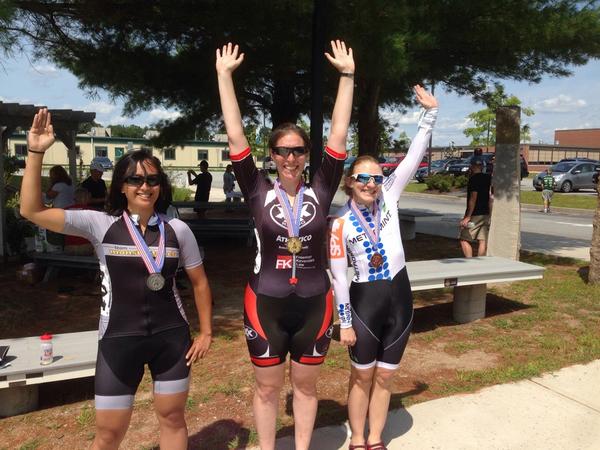 After that I went to two barbecues and ate everything in sight (best black bean burger ever). This included guacamole that I somehow managed to get on my medal, hence this tweet:
Then I met up with Dana again at Aeronaut in time to grab someone else's last beer and had another photo op.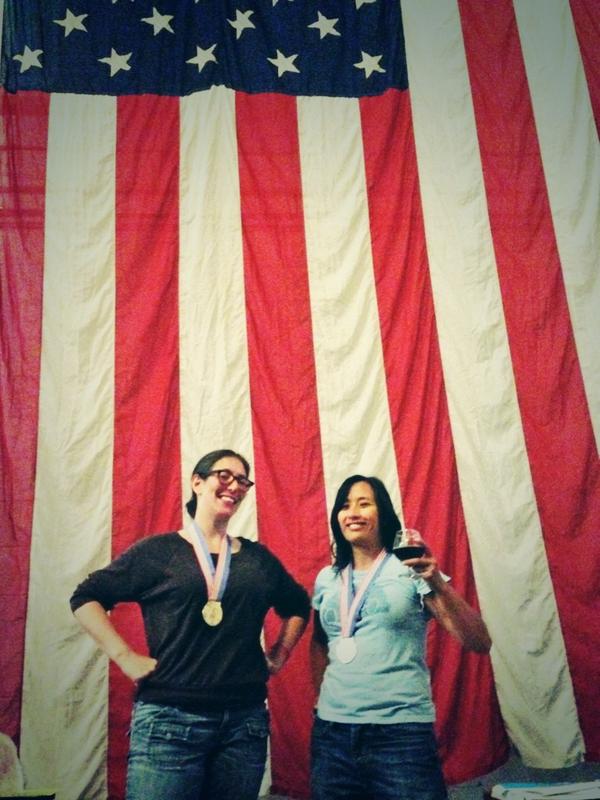 On a sad note, the Maine Time Trial Series has been canceled for the rest of the season. I hope that it will take place again next year as those races were a lot of fun. The courses were reasonably challenging and the scenery was picturesque (when my eyes weren't going red with pain).
I've started to see a handful of leaves turning on the trees, so naturally my mind has gone back to my first love, which is to #getCXy. Road is fun and I've learned to love my bad girl bike Malweather (it's amazing what almost completely replacing the components on a bike will do) and all, but I've been longing for the sound of cowbells and heckling in my ears and the taste of donuts, bacon and beer in my mouth during cyclocross. Heck, I've even missed that bruising on my right hip and inner right thigh that mysteriously appears at the beginning of the season and then fades out once my summer tan has faded in the winter.
Wait, what do you mean the Mayor's Cup is coming up in September? Looks like I have one last road race in me… I hope.
Get out on the road or #getCXy. Just ride.
Valerie (aka "The Green Fairy")